I'm very excited to get started on your project. A few easy steps and we're in business!
1. Check Out These Articles (If Needed)
*NEW - Mixing And Mastering Frequently Asked Questions
How To Prepare Your Songs For MASTERING
How To Prepare Your Songs For MIXING

2. UPLOAD YOUR FILES



SONG ONLINE MASTERING PRICES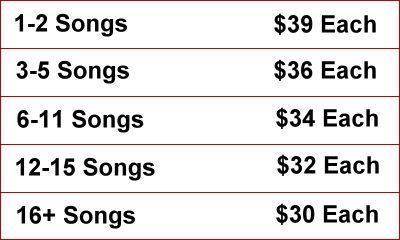 ONLINE MIXING PRICES
Mixing is $5 Per Stem

24-hour rush is available for an extra $10 per song (mastering only).
THAT'S IT!! All projects are finished within 3-5 business days.


REVISIONS

Make a CD of your songs and listen to them on familiar music players (car stereo, iPod, etc.) Note any preference adjustments (like a little more or less bass, brightness, etc). Note - Usually, not many adjustments are needed, if any.

Email me any adjustments you would like, or upload a corrected file if you're changing your mix. Note - Your first two sets of adjustments are free. After that, it's only $5 per adjustment set per song. 98% of my clients never pay anything extra.

I will keep all of your work on file for one year, just in case you need to make any changes to the project in the future. If you do not want your project retained, let me know and I'll remove it from my system one week after the project is finished.


Audiobook Editing and Mastering Services for ACX also available

Note: All emails, songs, and personal info submitted is 100% confidential.