You're here because you want your music to sound the very best it can! Let me personally help you achieve this, like I have for over 7,500 clients on over 40,000 songs!
I'm the author of the current #1 Best Selling Audio Mastering Book on Amazon! Let me use my 18 years of experience to take your project to the next level!
I'm very excited to make your project the very best it can be! Isn't that your goal (at any price)?
Only 50% Deposit To Start Your Project TODAY!
SONG ONLINE MASTERING PRICES
**PRICES ARE CUMULATIVE.
(Example - If You've Done 10 Songs In The Past And Have A 10 Songs CD, You Pay The $30 Per Song Rate)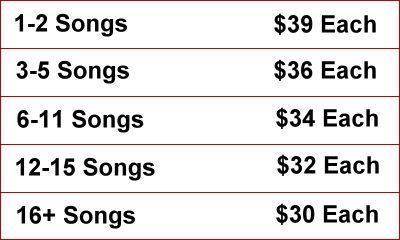 Only 50% down required. The rest due after you approve my work.
24-hour rush service available, add $10 per song. (Sundays not included)
Two free revisions per song, after that it's only $5 each.
Full CD projects usually finished in 3-5 business days.
Money back guarantee if you're not satisfied.
$14/SONG AUDIO MASTERING
I realize my rates may be too high for some. I'd rather you work with me, but If you're looking for very affordable real PROFESSIONAL mastering (no automated preset mastering) check out my former employee Brett Anderson. Only $14 a song - CheapAudioMastering.com
READY TO START ON YOUR PROJECT WITH ME?
---
PLASTIC CD MASTER DISKS (MAIL TO THE DUPLICATOR)
$40 US - $55 International
Price includes:
2 Redbook Master CDs Text / ISRC Encoding & UPC Code (If Applicable)
Volume Levels Are Balanced From Song To Song
Complete Error Checking
First Class Shipping In A Box (Non-boxed CDs often get crushed)
DDP IMAGE (UPLOAD TO THE DUPLICATOR)
$35
Price includes:
Quickly Download Your DDP Image - No Waiting For Your CD To Arrive!
Upload Your DDP Image To Your Duplication Company's Website
Quickly Get Your Duplication Started And Save A Few Days Turnaround Time!



NOTE - Get The Plastic CD Master Disks AND The DDP Image $50 ($65 International)!
---
MUSIC MIXING AND STEM ONLINE MASTERING RATES
I charge $4 per track/stem for mixing + $30 per song for mastering.
Example - A 10 track song costs - 10 x $4 = $40 mixing + $30 mastering = $70 total.
Bonus - You get 20% off the total bill for 6 or more songs.
Email Me the following (and I'll send you back a quote if you still need one):
1. Number of songs
2. Number of tracks per song (like lead vocal, bass, kick, etc.)
If you still don't get what I'm asking for, how many files per song are you sending?
---
Note: All emails, songs, and personal information submitted are 100% confidential.