Here are a few highlights from my career. A magazine article I was featured in, my Amazon best selling recording studio books, 50+ before and after samples, a few of the clients I worked with, a video of a song I mixed and mastered in December.

July 2019 Danceur Magazing Article
Since the begining of his solo career in 2008, I mastered over 80 songs with the top French recording artist NYLS. Great pop dance music with a lot of remixes. During his entire career (as of now), I mastered most of if not all the song he released. It was a great pleasure working with NYLS and Nico at Icon Records!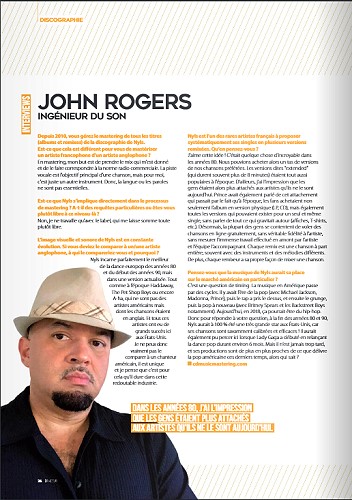 A very popular French music magazine, Danceur, dedicated the entire 62 page July issue to the career of Nyls! Me being his primary mastering engineer, they ask me to be part of the NYLS collectors issue. Below is the interview, in English.
John Rogers - Mixing & Mastering Engineer Since 1999, I've mastered over 30,000 songs for over 7,500 clients at my studio JRmastering.com. I'm also the author of the best selling audio mastering book on Amazon.com, Audio Mastering Secrets.
1. Since 2010, you manage the mastering of the Nyls discography (albums + remixes). Is it different for you to master a French vocalist artist from an English vocalist artist?
In mastering, my goal is to take the mix I am given and sonically match it to the commercial radio standard. The vocal track is the main focus of a song, but to me it's just another instrument. So, the language or lyrics are irrelevant.
2. Is Nyls directly involved in the Mastering process?
No, I only work with the label.
3.Does he have any particular requests concerning mastering, or are you rather free at this level?
I've mastered many songs played on the radio in Romania from Andra, Smiley, Mihai Ristea, and Miss Mary, and in dance clubs all over the world. So, the label was confident I would do a great job for them, and pretty much just let me do my thing.
4. The visual and sound image of Nyls is constantly evolving. If you had to compare him to an English/American artist, who would you compare it to and why?
Nyls is pretty much the europop dance music from the 80's and early 90's. Like Haddaway, The Pet Shop Boys, and A-ha. Those aren't American artists but their songs were in English. And all of those artists had big hits here in the U.S. Off hand, I really can't compare him to an American singer.
5. Nyls is one of the rare French artists to systematically propose his singles in several remixed versions. What do you think of it?
I love the idea! This was big in the 80s. We used to buy all the different versions of our favorite songs. Long extended versions (like 8 minute songs) were also popular back then. I believe back then people were more attached to the artists than they are now. Prince actually mentioned this. He said, back then fans bought the physical plastic album/CD, all the different singles versions, a poster, a tshirt, etc. He said they were true fans who collected everything the artist created. Now, people just steal songs online for free with no real loyalty to the artist.
6.Is it different for you to master a remix from a album version, from a technical point of view?
Each remix is an entirely different song, many times with different instrumentation and melodies. Also, each remixer will mix his song differently. Everything is handled on a song by song basis.
7. Do you think that Nyls music would have a place in the American market in particular?
It's a timing thing. Music in America goes through cycles. There was the pop era (Michael Jackson, Madonna, Prince), then rap got big, then grunge, then back to pop (with Britney and the Backstreet Boys). Now in 2018, it might be hip hop. In the late 80s and 90s, 100% yes, Nyls would have done very well! There was also a 6 month window Nyls would have done well when Lady Gaga was big here and pop dance was hot.
The Music Production Secrets Series
by John Rogers

A Few Before & After Mixing And Mastering Samples

ROCK & ROLL
Punk Rock Mastering
Bowling For Soup
Hard Rock Mastering
1st Degree
Heavy Rock Mastering
One Sick Unit
Alternative Rock Mastering
Yesterday And Tomorrow
Pop Rock Mastering
Nemesis
Alternative Rock Mastering
Good Sir Con Artist
Hip Hop and Rap
Hip Hop Beats Mastering
Dotta
Hip Hop Mastering
Frodie
Hip Hop Tracks Mastering
Jovanni Pharr
Rap Music Mastering
E.D. Smooth
Dance and Club Music
Dance Music Mastering
Andra
Pop Music Mastering
Jamita
Singer Songwriter Mastering
Shanna Hoar
Electronic Music Mastering
Marbeya
House Music Mastering
DJ Nita
EDM Mastering
DJ Any
R&B and Blues
Blues Music Mastering
Sir Charles Jones
R&B Music Mastering
Clinton Daniel
R&B Mastering
Jaay Blayze
JAZZ
Jazz Music Mastering
Ryan Saranich
Saxophone Music Mastering
Ava Lemert
Christian and Gospel
Christian Music Mastering
The Christian Boys
Gospel Music Mastering
K Daniel & Encounter
Christian Dance Mastering
The Christian Boys
Country Music
Country Music Mastering
Fleenor & Reap
Just mixed and mastered this Epic Movie Soundtrack - December 2019


Here's a very small portion of the thousands of clients I've worked with between 2011-2019
Bowling For Soup (Pop Punk) - Grammy Nominee, MTV Hit Video
Mary J. Blige (R&B) - Multiple Grammy Winner, Multiple #1 Songs
Dionne Warwick (AC, R&B) - Multiple Grammy Winner, Multiple #1 Songs
Nyls (Pop, Dance) - Multiple Top 10's France Billboard
MTV - Soundtracks For The Real World In 2011 & 2012
Smiley (Pop) - Multiple European Billboard #1 Songs In 2012
Andra (Pop) - Multiple European Billboard Top 10 Songs In 2012
Sir Charles Jones (Blues) - Billboard Blues Multiple Top 15 Songs American Blues Network Multiple Entertainer & Album Of The Year
Ryan Saranich (Jazz, Saxophone) - World Renowned Saxophonist
PBS - Documentary Soundtracks
Carl "Safe Sax" Ferris (Pop, Saxophone) - Amazing Las Vegas Fremont Street Performer
1 Sick Unit (Hard Rock)
Jovanni Pharr (HipHop)
Good Sir Con Artist (Alternative Rock)
Don Dotta (Hip Hop)
Nemesis (Hard Rock)
The Christian Boys (Christian, Pop)
Fleenor & Reap (Country)
Shanna Hoar (Pop)
The Kill (Rock, Rap)
Andrey Piryevec (Ambient Funk Jazz)
Ben Wood & The Bad Ideas (Rock)
Maybe Means Yes (Alternative)
The Flying Dogs of Jupiter (Classic Rock)
E.D. Smooth (Hip Hop)
Jamita (Pop, Dance)
Clinton Daniel (R&B)
Kevin Daniel & The Encounter (Christian, Gospel)
DJ Any (Trance)
Marbeya (Electronic)
DJ Nita (Club, House)
Ava Lemert (Jazz, Saxophone)
Jaay Blaze (R&B)
The Guest List Band (Punk)
Datasha (Bellydancer)
Katrise (R&B, Pop)
DICE (Rap)
Western Starlanders (Country)
Jason Cooper (Gospel)
Don Juan Music (Hip Hop)
SIXX (Rap)
SLR (Instrumental Rock)
MC Yodee (Christian Rap)
Catalyst (Rap)
Funky Guitar (Acoustic)
Miss Mary (Pop, Dance)
Metrognome (Progressive Rock)
Tanya Ross (R&B)
NYLS (Pop, Dance, Club)
Bombay (Rap)
Bantam Feather (Hard Rock)
Tethered Band (Pop, Rock)
John Basile (Jazz)
Geir Solerød (Acoustic)
Colier Mcnair (Inspirational, Soul)
League Legends (Hip Hop)
Chas (Rock, Americana)
Modern Insurgency (Rock)
(Gothic Hip Hop, EPIC Hip Hop)
Gravity Control (Rock)
Graeme & Victoria Sweet (Christian)
Andréa Nebel (Gothic, Alternative)
Steve Sevek (Country)
NAO (Spanish Pop, Rock)
Keith Harrison (Pop)
Daz Grease (Pop, Dance)
David Harvey (SingerSongwriter)
Coco Lypso (Reggae)
The Honest Mistake Band (Rock)
George Martinez (Rock)
Psychostarts (Pop, Alternative)
Johnny Dynell (Club, House)
Demonte Thomas (Pop, Dance)
Marisco (Electronica Rock)