Thanks for visiting my online mixing and mastering prices page. You'll find my online mixing and mastering rates are very low compare to my experience level and what I offer. Email me with your project details if you would like a free demo.
Who is John Rogers and Why Have Over 7,500 Clients Worked With Me?
#1 REASON - I'm a top mastering engineer and I personally work on your project. If there are any problems with your mix, I will let you know exactly how to correct them. We work together as a team, with great fast communication, to get your music to sound the very best it can! I'm here for clients who want to work together with an honest person who cares about their music! My name goes on every project and excellence is my goal.
Only 50% Deposit To Start Your Project TODAY!
SONG ONLINE MASTERING PRICES
(prices shown are per song)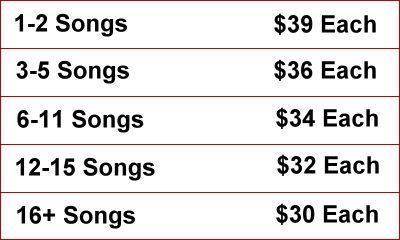 Click Here - Or, Let Me "Personally" Teach You How To Master Your Own Songs!
Only 50% down required. The rest due after you approve my work.
24-hour rush service available, add $10 per song. (Sundays not included)
Two free revisions per song, after that it's only $5 each.
Full CD projects usually finished in 3-5 business days.
Money back guarantee if you're not satisfied.
READY TO START AN ONLINE MASTERING OR MIXING PROJECT?
---
PLASTIC CD MASTER DISKS (MAIL TO THE DUPLICATOR)
$40 US - $55 International
Price includes:
2 Redbook Master CDs Text / ISRC Encoding & UPC Code (If Applicable)
Volume Levels Are Balanced From Song To Song
Complete Error Checking
First Class Shipping In A Box (Non-boxed CDs often get crushed)
DDP IMAGE (UPLOAD TO THE DUPLICATOR)
$35
Price includes:
Quickly Download Your DDP Image - No Waiting For Your CD To Arrive!
Upload Your DDP Image To Your Duplication Company's Website
Quickly Get Your Duplication Started And Save A Few Days Turnaround Time!



NOTE - Get The Plastic CD Master Disks AND The DDP Image $50 ($65 International)!
---
MUSIC MIXING AND STEM ONLINE MASTERING RATES
Email Me the following (and I'll send you back a quote):
1. Number of songs
2. Number of tracks per song (like lead vocal, bass, kick, etc.)
or
1. If you still don't get what I'm asking for, how many files per song are you sending?
---
GET STARTED ON YOUR PROJECT!
I currently work with at least a hundred clients each month and everything goes very smoothly in only four easy steps.
1. Check Out These Information Articles As Needed
How To Prepare Your Songs For MASTERING
How To Prepare Your Songs For MIXING
2. Upload Your Music
Note - Please try to keep things consistent. Example, if you use This email address is being protected from spambots. You need JavaScript enabled to view it. for your song submission, don't pay using This email address is being protected from spambots. You need JavaScript enabled to view it.. If you do, I won't know who paid unless you tell me. Thanks!
3. Email Me
If you didn't send me a message in the widget above, send any information I should know about your project.
4. Make Your 50% Down Payment
If you haven't already you can find my mastering prices here. The balance is due after you review all the previews and approve my work.
THAT'S IT!!
You will get an initial preview in 1-2 days. All projects are finished within a total of 3-5 days. 24-hour rush is available for an extra $10 per song (mastering only).

REVISIONS

Make a CD of your songs and listen to them on familiar music players (car stereo, iPod, etc.) Notes any preference adjustments (like a little more or less bass, brightness, etc). Note - Usually, not many adjustments are needed.

Email me any adjustments you would like, or upload a corrected file if you're changing your mix. Note - Your first two sets of adjustments are free. After that, it's only $5 per adjustment set per song. 95% of my clients never pay anything extra.

I will keep all of your work on file for one year, just in case you need to make any changes to the project in the future. If you do not want your project retained, let me know and I'll remove it from my system one week after the project is finished.
Note: All emails, songs, and personal information submitted are 100% confidential.