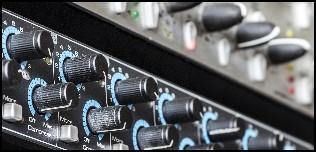 Here's the basic hardware you need to Master Music:
A Computer (preferably a quad core or faster)
An Audio Interface (which contains a mic preamp and instrument cable inputs)
Studio Monitor Speakers & A Sub-Woofer
An Audio Control Unit To Control Speaker Volumes (optional but

it makes life a lot easier)
If you're looking to get started real cheap, you could make a decent hardware only set-up for about $1,500. High-end hardware will run you roughly $3,500-$4,500. Still not too expensive. Read more....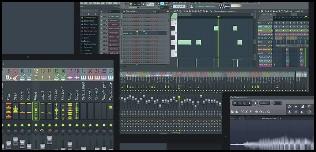 Here's the software needed to Mastering Music:

Any DAW software can be used to including the most popular -
Ableton

Fl studio

Logic pro

Cubase

Reaper

Studio one
As long as you can put effects on the stereo/main out, you can master with the DAW. Read more....



SETTING UP YOUR STUDIO LISTENING ENVIRONMENT




Room Size
Technically, you can properly mix or master in any room size. But, I believe a smaller room is better than a very large one for someone who's just starting out. And when I say smaller I mean closer to 12'x15' than to 20'x30'. I've mixed and mastered songs for a number of years in a 20'x30' room. It took me a few days to get used to it, but after that I could do it. The obvious problem with a big room is it's a very open space. If you don't have a good acoustic setup, the room will add reverb to every song. You have to compensate for this on every song you mix or master, because the extra reverb you hear isn't really in the music. It's coming from the room. In a smaller room, even with no acoustic treatment, your mixes and masters will all sound more true. They won't be discolored from bouncing around a big room. Read more....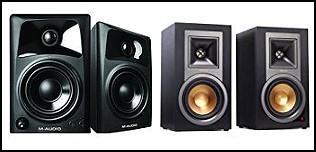 Speaker Choices
I've used dozens of different brands of speakers in my career and I do like a few better than others. But, this article deals more with types and sizes of speakers, not with the brand choices.

The main mixing and mastering speakers I currently use are Dynaudio 100w powered studio monitors with 6" woofers and 1.1" tweeters. They have nice EQ adjustment options on the back and I know these speakers very well. If you get speakers that are a little larger, you'll get better LOW-end out of them, but I'm happy with the size I use.

The most important part of your speaker setup (that a lot of newbies don't know about) is having a sub-woofer on the floor between your main studio monitors. If you're using 4-6" monitor speakers, it's impossible to correctly mix or master any music content under 150hz without having a sub-woofer. 4-6" studio monitors will not play the low 60hz sub-bass AT ALL, and they're weak at best in the 100hz area.

Speaker Placement
Before I tell you the setup I like best, after many years of experimentation, I'd like to first tell you the setup I personally don't like (even though a lot of sound engineers do this). Two studio monitors, five feet apart, on a desk two feet away from their face. And NO sub-woofer! I think they call this "near field" monitoring.

But at some point during the audio mastering process, you must crank the music up very loud to set your final compression and to hear how it translates at high volume levels. You can't do this if your speakers are right next to your ears! At least I can't. Maybe this is why the songs I get in for re-mastering badly break up when cranked up loud, and the bass is totally washed out. They were originally mastered at very low levels without a sub-woofer, and not optimized for loud playback.

I also find it hard determining the overall depth and stereo width in music when the speakers are two feet in front of me. Which makes sense. Its like watching a 50" TV. I want it to be far enough away so I can take the whole picture in. No one puts a 50" TV on a table right in front of them, yet this is done with speakers.


My Personal Speaker Placement
First off, I use speaker stands for my studio monitors, and the speakers stand 3.5 feet off the ground. I have the stands roughly 7 feet apart, and the speakers are about 6-7 feet away from my face. The sub-woofer is on the floor, centered between the two speaker stands.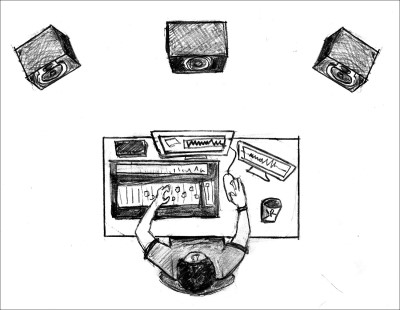 Note - Do not put the back of the speakers right up against a wall. Have at least 10 inches between the back of your speakers and the wall, or the sound will be altered.
I've found this setup is close enough where I can here all the details in the music, wide enough so I get a full representation of the stereo field, and the speakers are far away enough so I can crank the music up to 105dbs to make sure it sounds right for loud playback, without blasting myself in the face.

Learning And Calibrating Your Speakers
When I first start out with NEW speakers (though I never change them now), I listen to my favorite hit songs in every genre and style. Songs that I know from my years of experience have X amount of bass, X amount of brightness, etc. I know how these songs are "supposed" to sound.

Most good speakers have EQ adjustment switches on them, and the sub-woofer has a volume control on it. After several listens, I'll slightly adjust the EQ on the monitor speakers and the bass amount on the sub-woofer so that my favorite reference songs sound "true" to me. I'm making my speakers sound true to life, not exaggerated in any sonic area. Once the songs playing through these speakers sound "true" to me, then anything I mix or master will be done correctly.

How could speakers sound untrue to me? An example, if I'm playing a few commercially hip hop songs and the bass sounds very weak on every song, the speakers I'm using are untrue because I know in reality the bass should be much higher/louder in hip hop. I know the sub-woofer needs the bass volume adjusted and maybe the studio monitors do too. And I adjust them accordingly.
If I worked with these untrue speakers, I would improperly raise the bass on every song, thinking it was too low, when in reality the speakers aren't properly playing the bass.

It's easier when working with true speakers because what you hear correctly represents the audio material you're working on.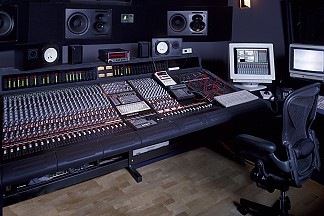 Sound Proofing Your Room
I had to write a quick note on this, as I was reminded about it while thumbing through a popular mixing book that had a 15 page section on speaker resonance and room sound proofing. I must say, a very exciting 15 pages!

Way too much is made out of room sound proofing! I can audio master songs to perfection in an untreated basement, a huge studio room, in a bathroom, anywhere. I've done it all before. I can even master in my own backyard, with no walls!

Now, I would have to listen to a few reference tracks to learn a new environment. And some client feedback might be required. But after a couple hours, I could master anything in any space. At least 15,000 of the songs I've mastered were done in an untreated room. And my clients LOVED them all!

You don't need foam or sound proofing on your walls. The important thing is to learn your environment, whatever it is. The proof is in the number of highly satisfied clients I've serviced, over 7,500. And the THOUSAND who were totally blown away by what I did with their music.

Now, if you do want some foam or acoustic treatment in your room, buy it. You'll still have to learn how the room sounds after you install it. My point is you don't need it for audio mastering.
I've gotten in hundreds of remaster jobs that were originally mastered at studios with thousands of dollars worth of foam on their walls, and these masters were HORRENDOUS! A mash of distorted noise trainwreck! The foam did a lot of good. Read more....