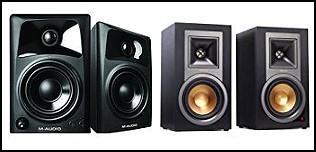 Learning and calibrating your speakers for your DAW in audio mastering is a very important step in the audio mastering process. When I first start out with NEW speakers (though I never change them now), I listen to my favorite hit songs in every genre and style. Songs that I know from my years of experience have X amount of bass, X amount of brightness, etc. I know how these songs are "supposed" to sound.
Most good speakers have EQ adjustment switches on them, and the sub-woofer has a volume control on it. After several listens, I'll slightly adjust the EQ on the monitor speakers and the bass amount on the sub-woofer so that my favorite reference songs sound "true" to me. I'm making my speakers sound true to life, not exaggerated in any sonic area. Once the songs playing through these speakers sound "true" to me, then anything I mix or master will be done correctly.
How could speakers sound untrue to me? An example, if I'm playing a few commercially hip hop songs and the bass sounds very weak on every song, the speakers I'm using are untrue because I know in reality the bass should be much higher/louder in hip hop. I know the sub-woofer needs the bass volume adjusted and maybe the studio monitors do too. And I adjust them accordingly.
If I worked with these untrue speakers, I would improperly raise the bass on every song, thinking it was too low when in reality the speakers aren't properly playing the bass.
It's easier when working with true speakers because what you hear correctly represents the audio material you're working on.
{article 170}[layout]{/article}