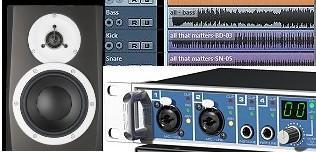 What's the best music gear for your home recording studio in 2017?
I get asked every week, "What gear do I use." In this article, I'm going to tell you the EXACT gear I used to mix and master all of the songs submitted since 2008. Here are some samples of the songs I mixed and/or mastered using the gear below.

Since 1999, I've worked with very HIGH-end equipment, MED priced, and when I first started out I worked with the CHEAP stuff! My suggestions below are personal preferences that I work for me and have gotten me GREAT results over the years.
Digital Audio Workstation (DAW)



It all starts with the Digital Audio Workstation software. There are so many choices out there, and each has its strengths, but I'm a big fan of Steinberg Cubase and have been using it ever since SX3!!
There are other DAW choices out there that are a little better with the workflow for composing, some people swear by pro tools or logic for mixing, and there are different types of standalone mastering software, BUT if you want an ALL-AROUND BEST software that is GREAT at composing, mixing AND mastering, and comes with tons of options - Steinberg Cubase is the absolute winner!
PC Desktop Computer
I don't really have a "specific brand" PC recommendation here, but I do recommend at least a 3.5GHZ QUAD core. Anything slower and export times take too long.
My Speaker Setup
There are hundreds of different choices here! I love Dynaudio speakers! A great medium price set that I swear by are the Dynaudio BM6 MkIII. They're powered, so you don't need an amp. And they're crystal clear! They also are pretty true to sound. Also, you can EQ adjust the controls on the back of the speakers to tweak the output a bit.
These will be my MAIN monitor speakers until I retire. I know them very well and my results are great.
The MUST HAVE item in your studio - the sub-woofer, I went pretty cheap with this one but it works well!! I use a KRK K10s. HUGE bass!! You won't get 50hz-150hz wrong with these.
This sub-woofer is also powered and has a bass adjustment knob on the back. So, you can set the bass how you like it and know it to be true.
Audio Interface
All of the mixing and mastering samples you hear on my website, I used an RME Fireface 400, which is now called RME Fireface UCX. Great quality sound, and low latency. Latency speed is 2-3 times faster than that of a cheap $300-$400 audio interface.
Analog Tube Pre Amplifier
The RME Fireface UCX has a preamp, so you can record using a mic or line in without having to buy an additional one. But, if you want to soften up a vocal track during recording, I loved using the Universal Audio 2-610 Dual Channel Tube Preamplifier. It only has a few knobs on it, so it's very easy to setup and use right out of the box. The results are hard to explain without you listening to them. The vocal track has a softer thicker sound to it when run through this tube preamp. The vocal sound is more what you're used to when you listen to a song on the radio.
Analog Tube Passive Equalizer
I do have ONE very expensive piece of gear in my rack! The Manley Massive Passive Mastering EQ! I actually got it used from a studio that went out of business several years ago, but it's still the real deal! About 20% of my clients want more of an analog sound. When they do, I use this!
Like the tube preamp above, this thing gives your recordings that "radio sound" that you're used to hearing. It's hard to explain.
Central Station
When I switch to different speaker sets and turn the music volume up and down, I use the Presonus Central Station. I've had it since 2008 and it's a staple at my studio.