Here are the series of audio mastering software processors I've used on the over 30,000 songs I've mastered since 1999. In this video, I use mostly izotope ozone plugins because it's easier to explain using them. In real-life, I do mix in a few hardware pieces, and a waves plugin.
In this video I do a quick A/B comparison of a few songs. In my audio mastering secrets video series, I get a lot more in-depth into exactly what you are trying to achieve sonically for your genre/style of music.
This is a quick video on how a mid-side processor works, and how to check the stereo field of your mix using a mid-side processor equalizer.
A lot of mastering engineers are afraid to make drastic changes to a mix they are working on. That, or they're stuck in the familiarity of always making only small changes.
In this video I show how you can turn a weak mix (definitely wouldn't call it bad) into a great sounding master, simply by pushing your levels a little more than you might be used to.
This video shows one of the more imptotant compression techniques I use in audio mastering. In my audio Mastering Secrets Video Series, I explain everything you need to know about audio mastering.
These are the Top 17 most common music mixing mistakes I see daily. Correcting them could will improve your audio mastering results and make your mixes sound more professional.
How much headroom before mastering should you leave in your mix? Here's the correct amount of headroom you should leave, using detailed graphic examples.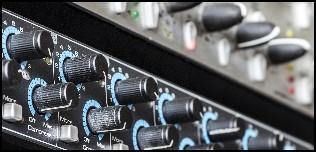 Here's the basic hardware you need to master music:
So, what is the best room size for audio mastering in your DAW home recording studio? Technically, you can properly mix or master in any room size. But, I believe a smaller room is better than a very large one for someone who's just starting out. And when I say smaller I mean closer to 12'x15' than to 20'x30'. I've mixed and mastered songs for a number of years in a 20'x30' room. It took me a few days to get used to it, but after that I could do it.
Millions of people suffer from tinnitus. A new study shows around 10% of the U.S. population suffers from it in some form, but many have never even heard of it until they get it! Unfortunately, I was one of those people. It can happen quickly and it lasts a lifetime...