You visited my website for a reason. You want your music to sound GREAT at an affordable price!
I will personally work with you and get your music sounding the very best it can! Isn't that your goal?
---
**Song Mastering Prices**
ALL songs are mixed & mastered by me, John Rogers. I've mastered over 30,000 songs and worked with over 7,500 satisfied clients since 1999!
I require only 50% down to start your project. The balance is due after your project is finished and you are satisfied with my work.
*Mastering prices are cumulative. For example, if you've already mastered 10 songs with us in the past and are ready to master 6 more songs, you would receive the 16+ song rate.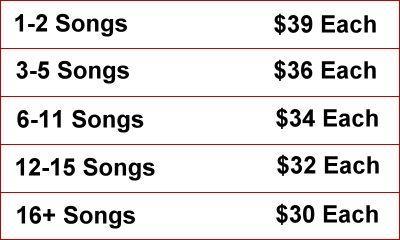 Moneyback Guarantee if you're not satisfied
Two free revisions per song, after that it's only $5 each.
Alt. versions (radio, extended, etc.) with same master settings only $10 each
24-hour rush service available, add $10 per song. Sundays not included.
Full CD projects usually finished in 3-4 business days.


Here's how to START A PROJECT.
---
Physical CD Master Disks
$40 US - $55 International

Price includes:
2 Redbook Master CDs Text / ISRC Encoding & UPC Code (If Applicable)
Volume Levels Are Balanced From Song To Song
Complete Error Checking
First Class Shipping In A Box (Non-boxed CDs often get crushed)
DDP Image

$35

Price includes:
Quickly Download Your DDP Image - No Waiting For Your CD To Arrive!
Upload Your DDP Image To Your Duplication Company's Website
Quickly Get Your Duplication Started And Save A Few Days Turnaround Time!
NOTE - Get The Physical CD Master Disks AND The DDP Image $50 ($65 International)!
---
**Song Mixing & Stem Mastering Prices**
INCLUDES FREE MASTERING!

Prices shown below are PER SONG and are based on the number of channels (kick, snare, vocal, etc.) each song has.
Mixing Project Of 6 or More Songs

Take 20% OFF

Listed Prices!
Note - There's a 50% non-refundable labor fee on all mixing and stem mastering jobs.
Please Like Us on Facebook! Thanks!