You visited my website for a reason. You want your music to sound GREAT at an affordable price!
ALL songs are mixed & mastered by me, John Rogers, author of the Audio Mastering Secrets Book.
I've mastered over 30,000 songs and worked with over 7,500 satisfied clients since 1999!
This IS NOT an automated mastering process using presets (this doesn't work). Your entire CD will sound consistent and the very best it can since I use over 17 years of experience on every project.
I love music and treat every project as if its my own!
---
**Song Mastering Prices**
I require only 50% down to start your project. The balance is due after your project is finished and you are satisfied with my work.
*Mastering prices are cumulative. For example, if you've already mastered 10 songs with me in the past and are ready to master 6 more songs, you would receive the 16+ song rate.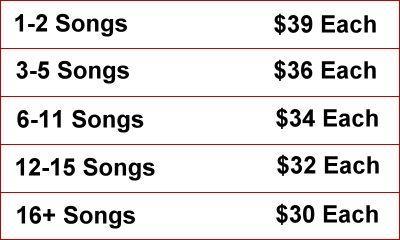 Two free revisions per song, after that it's only $5 each.
Alt. versions (radio, extended, etc.) with same master settings only $10 each
24-hour rush service available, add $10 per song. Sundays not included.
Moneyback Guarantee if you're not satisfied
Full CD projects usually finished in 3-4 business days.


Here's how to START A PROJECT.
---
Physical CD Master Disks
$40 US - $55 International

Price includes:
2 Redbook Master CDs Text / ISRC Encoding & UPC Code (If Applicable)
Volume Levels Are Balanced From Song To Song
Complete Error Checking
First Class Shipping In A Box (Non-boxed CDs often get crushed)
DDP Image

$35

Price includes:
Quickly Download Your DDP Image - No Waiting For Your CD To Arrive!
Upload Your DDP Image To Your Duplication Company's Website
Quickly Get Your Duplication Started And Save A Few Days Turnaround Time!
NOTE - Get The Physical CD Master Disks AND The DDP Image $50 ($65 International)!
---
**Song Mixing & Stem Mastering Prices**
INCLUDES FREE MASTERING!

Prices shown below are PER SONG and are based on the number of channels (kick, snare, vocal, etc.) each song has.
Mixing Project Of 6 or More Songs

Take 20% OFF

Listed Prices!
Note - There's a 50% non-refundable labor fee on all mixing and stem mastering jobs.
Please Like Us on Facebook! Thanks!