Looking for the best audio interface for your DAW home recording studio in 2017? An audio interface is another essential part of the DAW home recording studio.
Its purpose is to import music or vocals from an outside analog source (such as a microphone or a line-in) and convert it into digital information that can be recorded to your computer hard drive.
It also does the reverse, converts digital music information from your computer into an analog signal so that it can be played on speakers.
Note: Most firewire audio interfaces also have phantom mic power and a mic pre-amp, which are adequate for a home studio.

Before getting into my recommendations, I'd like to say that I've worked on many songs that were mixed using high-end audio interfaces all the way down to the $299 Focusrite Saffire. I've found that material recorded with higher end interfaces sounds better from the start, but with good clean recording, mixing and mastering, you can get great sounding results from a lower priced audio interface. The average person couldn't tell the difference if done well.
Best Firewire Audio Interfaces


$1,999 Universal Audio Apollo Quad FireWire Audio Interface
Apollo FireWire is one of the world's most popular professional audio interfaces - delivering the sound, feel, and flow of analog recording to music creators everywhere.
This unit is ALSO an effects processor that will work with any DAW software like Protools, Cubase, etc. You can run effects like reverb, EQ, compression, or delay from the top companies like Neve, Studer, Lexicon, Manley, SSL, Roland and many more!
It has the power to run 12-16 different effects simultaneously. Plenty for your next mixing and mastering project.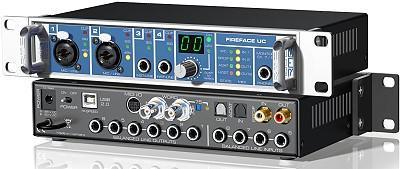 $1,349 RME Fireface UCX
I've personally used this audio interface in the past and the results were great! It's the only one you'll ever need! Latency is good too.
Most of the songs mastered on this page were mastered using this audio interface!
$299 Focusrite Saffire Pro 26 FireWire Audio Interface
Cheap but you'll get pretty decent results with it. On the down side, latency many times is a problem with the cheap ones. Not many times, all the time! The cheaper audio interfaces will have a delay 2-3 times longer than an expensive interface like the RME Fireface UCX.
Best PCI Audio Interfaces
(Note: Most PCI interfaces do not have mic cable inputs and preamps)
$549 RME HDSPe PCI desktop interface for Multiface, Multiface II, Digiface
I personally have never used this audio interface, but I love RME products. Great quality at a reasonable price.

John Rogers
If you enjoyed this article like, share, tweet, or pin it!  Thanks!